Being organized as the parent or caregiver of a medically complex child is complicated! We know that, and we have collected tips, tricks, and hacks from parents who are in the trenches and making it work.
Now, on to all the great organizational tips from our community members!
For Tube Feeding

:
Command hooks: Hang feeding bags and feeding pump backpack and bag on the hooks when draining or cleaning them
Boon lawn drying rack: This is a game changer for washing and drying syringes
The Flying Squirrel: Holds up to 500 mL bags, and is easy to use with command hooks as well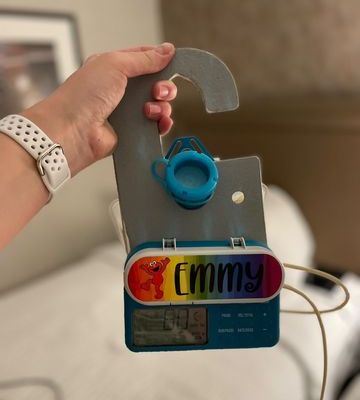 "When the doctor originally told me that my daughter would need a feeding tube, I thought our lives would be limited." "The Flying Squirrel…eliminates the need for an IV pole. …It is truly amazing and life changing and I would recommend it to anybody who has a child with a feeding tube." – Megan Schneider @megannschneid
3D Tubie Dad pump holder: This 3D printed pump holder fits all variety of grab sizes when you're on the go, so you don't have to worry about bulky IV poles coming with you.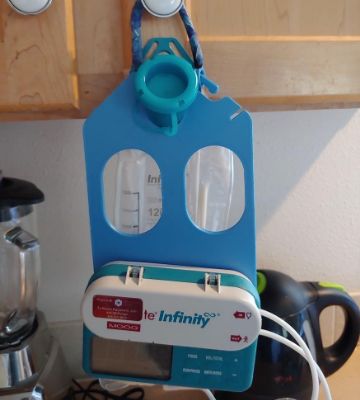 This works with kangaroo and infinity pumps, and holds up to 1200 mL bags. "We can easily slip it into a backpack…or we can slip it out and she can carry it… It's a lot like the Flying Squirrel, but in my opinion better because it can accommodate longer bags and go in the backpack easily." – Andrea, tubie mom
Freearm: Misti Staley, mom to a medically complex child, invented the Freearm to make life easier for tubies and their loved ones. Use code RARE20 for 20% off your order!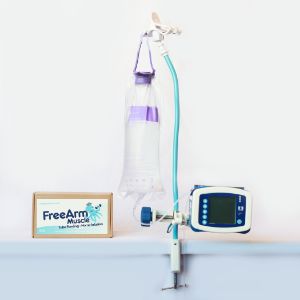 Here is one specific feeding pump setup: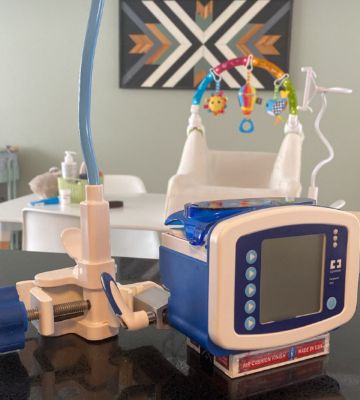 For Meds

:
Washi tape to color coordinate syringes and medicine bottle caps for easy pairing – Lillian West @lillywest
Soft sided caddy to carry meds, syringes, and straws
And of course, keep all the meds in one central location, preferably close to where you use them, but out of reach of little hands or furry paws.
For General Medical Supplies

:
Only order what you need from DME: It might seem intuitive, but I've been guilty of ordering the maximum insurance will cover so that I'm not caught in an emergency or a supply chain shortage. Over time, those extra supplies add up to a drawer – or closet – full of items we aren't able to go through and might even expire. "I have a running list of all the items I need to place orders for. That way when its time to order, I can quickly go through and check what I am running low on each month." —Katrina McElhinney @kattymac
Purge extra supplies: Once you end up with extra supplies (who, me?), make the decision to purge them via Facebook groups for parents of medically complex kids, maybe even one you are already a part of, or non-profits like the Oley Foundation.  
Making at-home supplies easier to access:
Over the door shoe organizer to store everything from gauze to diapers to trach supplies to unopened syringes. Anything that'll fit in the pockets can be stored in here!
Mason jars for awkward items like tubes of cream, toothbrushes, syringes, etc

Unpack and organize ASAP upon delivery "bins! Bins in drawers are MVPs! I also unpack everything as soon as it arrives and try to remove as much of the plastic packaging as possible and safe to store supplies."—Johni Hayes @just.a.tidge

Labeled clear totes for longer term storage on a garage or closet shelf "When you're stressed and busy you just want to be able to grab and go" – Anna Crabb @annacrabb77

Medical Table as a changing table "It's easily wiped down and it's perfect height for a changing table, and it's extra long so as my son gets bigger and longer it still fits…and on the wall that it is pushed up against we have shelves that hold all of his medicine…and right below the changing table we have drawers…so that as we're doing things for the g-tube…it can be done on his changing table…It is really convenient and we just love it." – Megan King @dragonflymegan

Rolling cart to keep supplies close at hand wherever you are in your home

Organization desk to keep all your supplies in one place, but not necessarily right in your face, if the extra clutter stresses you out

Silicone magnetic ties for cords and tubes
For On-the-Go

:
Rescue Bags: Make your own kit of emergency supplies, from rescue meds to g-tune replacement parts and everything in between so you always have them with you on the go! You can even create a similar kit for your school nurse, so your child has access to extra supplies at school too.
Roll up bag: "There's all different pockets of sizes… It stays light, and it fits everything from all of our needed supplies to an ambu bag and diapers and wipes" - Alex Johnson @_alexishome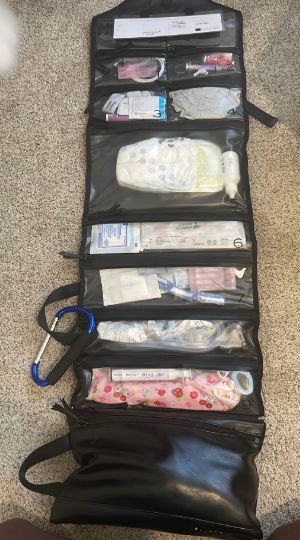 Laminated packing list and dry erase marker. "We just cross stuff off as we go and then you get to use the same sheet over and over. It's super easy to update…it just helps ease our mind whether it's an emergent situation or a situation that's controlled and we're actually going somewhere fun." – Megan Schneider @megannschneid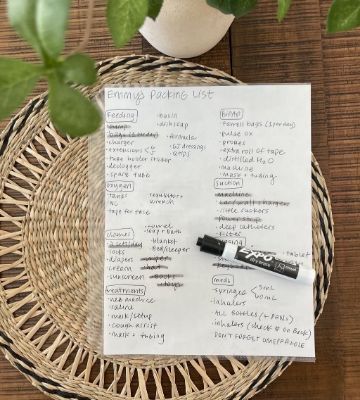 In conclusion:
We hope you can feel inspired to implement one or ten of these ideas to make your life just a little easier!
You can hear more about all of these hacks on episode 118 of The Rare Life Podcast.
Need help obtaining some of these organizational items? Try Lily's List, a non-profit organization that donates organizational supplies to families like ours. Or enter our giveaway on Instagram!